Join us for the 2020 Charming home tour celebrating New Smyrna Beach's Historic District
WHEN: March 21, 2019
between 10:00AM and 4:00PM.
The tour is a fundraiser supporting the mission of the New Smyrna Beach Residents' Coalition, Inc. showcasing six unique homes & home businesses through the years that celebrate New Smyrna Beach's special CHARM! The properties planned for the tour follow. We know you will appreciate them as much as their owners and we do!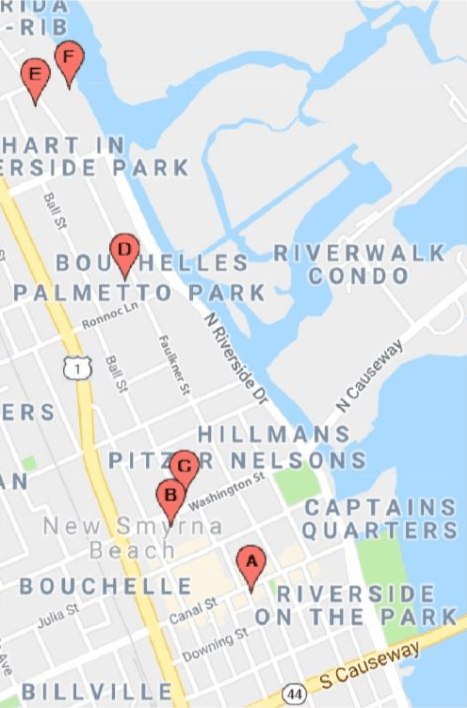 Free parking available in north parking lots of First NSB – A Family Church and United Church of Christ located at the corner of Washington and Faulkner Streets with golf cart loop shuttle to all home locations. Public parking is also available in downtown New Smyrna Beach.
A. Toxey Whitaker Insurance – 314 Canal Street
A brightly planted window box subtly suggests the cozy interior found within this narrow, one- story 1930's bank building. The front office and original vault absorb a little less than half its economical 1620 square feet. A 2010 renovation of the back retained original black glass wainscoted walls, converting to comfortable urban living quarters that culminate in a privacy fenced garden, replete with Crepe Myrtle, Fig and All spice trees and an outdoor kitchen.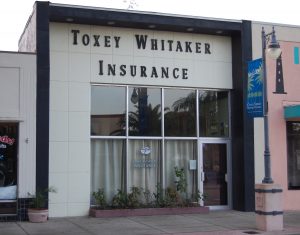 C. Renewals Books – 221 Washington Street
A 2010 opening signaled Debbie's faith in our community's future. Much work goes into bringing a building of this vintage into compliance with today's codes (especially for a mixed-use property), but Debbie never considered tearing it down. Many are likely familiar with the cozy reading areas indoors, and out, and possibly even enjoyed a coffee in the kitchen, but the living space will be publicly viewed for the first time on our tour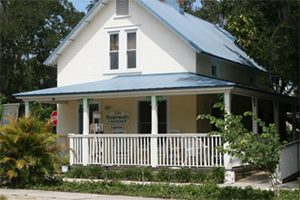 B. Anchor Inn B&B – 312 Washington Street
In 2015, sisters Marie and Ellen fell in love with this structurally refurbished 1923 Craftsman home and New Smyrna, turning it into the Anchor Inn. The touches they added – new stained-glass transoms, new thematic décor to each guest room, extended outdoor patio areas and, most recently, a new kitchen – will completely charm visitors. Also on view through our is art they collected over thirty years. Our tour includes the rare chance to see their apartment above.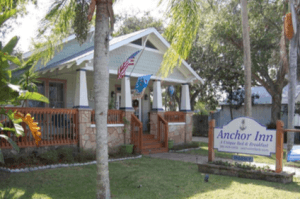 D. The Neylon Home – 608 Faulkner Street
Our 2019 tour's most deeply historic home, and a work in progress, stands over an 1800's foundation thought to be part of an indigo works. Cobbled together from four servant shacks in 1920, multiple additions and renovations over time eventuate a deceptively spacious Craftsman home. Most recent work reclaimed it from a duplex to a single-family home, utilized period materials gathered from local and regional building recycling sources.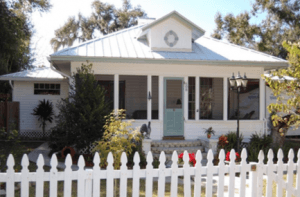 E. The Mayo Home – 716 Faulkner Street
Built in 1954 with a few renovations in 1974, less than 1400 square foot mid- century home delights inside and out. Raised ceilings, generous windows & open floor plan enlarge the rooms beyond expectation. Carefully selected, diverse era furnishings (rattan to Danish Modern; wood, upholstered and glass), along with original mid-century modern baths and verdant garden plantings are some of what you'll see. Our tour reveals a unique-to-the-era feature.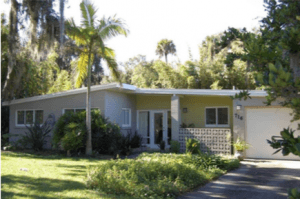 F. The Ellis Home – 711 Faulkner Street
One of NSB's prized riverfront properties, a 1946 residence hugs the northeast property lines allowing remaining acreage to be sculpted into multiple oak shaded gardens by its horticulturist owner. A later river-aligned wing more than doubled the living space. Work overseen by current owner stitched the two together into a seamless present state, complete with the 2017 home office of anyone's dreams.