Thank you for your overwhelming support!
THIS EVENT IS SOLD OUT
The 2022 Charming Home Tour Fundraiser is planned for Thursday, March 24 between 10AM and 4PM.  RAIN OR SHINE.
PayPal purchases may be redeemed by showing your PayPal receipt at any home or at at the free United Church of Christ parking lot on Washington St. on the day of the tour.
################################
Tickets are currently being printed and should be available for redemption or purchase (cash or check) at Southern Trends by February 23.
More details to follow.
A. 608 Faulkner Avenue The Neylon Home
Our 2022 tour's most deeply historic offering, 608 stands over a cochina foundation that dates to 1800's & thought to be part of an indigo works. Cobbled together from four servant shacks in 1920, multiple additions & renovations over time eventuate a deceptively spacious Craftsman home. Reclaimed from a duplex to a single family home, period materials gathered from local & regional building recycling sources retain its period charm.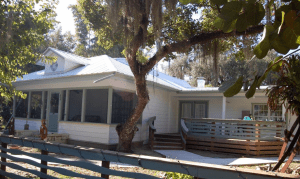 B. 624 N Riverside Drive (Enter on Faulkner) The Ison Home
Built 1966 as 1st structure on this section of W E Connor's 1880s riverside holdings, this mid century modern home with lovely river views also retains these original traits: terrazzo floors, spacious light filled rooms, both attached & unattached garages. Current updates include patio with pergola & a screened porch with river views. Native & traditional plantings, period furnishing & an abundance of artwork inside and out make this home a joy at every turn.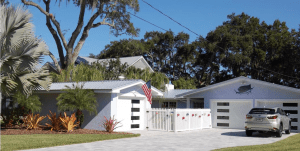 C. 214 Mary Avenue (between Faulkner and Ball) The Lucket and Fisher Home
This graceful 1928 Craftsman home's recent renovations beautifully restore its original charm. Sheltered by a new metal roof & new windows throughout, the walls and ceilings within were torn down to the frame, insulated, rebuilt, & painted in cheery fruit sherbet tones. Refurbished heart pine floors, new kitchen & bath in period-style, along with artisan-crafted counters, update these spaces beautifully. Abundant art objects, paintings & furnishings complete the interior.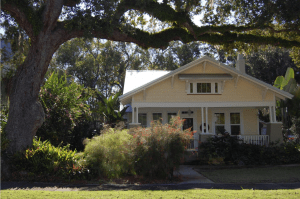 D. 310 Rush Street (between Murray and Washinton) Bowen Home
Transformed from the nondescript to a south island paradise, this property boasts a lovely 2 BR cottage with an all season screened porch, fecund gardens, an outdoor, covered bar area & a working ceramics studio. Bringing this 1925 bungalow back to life uncovered its gorgeous heart pine flooring & an internal chimney only made evident initially by the brickwork that wound through attic beams. More artwork—indoors and out—than can be described.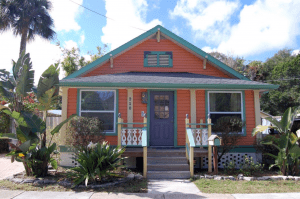 E. 303 Rush Street (near Washington) The Sullivan-Cockrel Home
See how new construction fits into tiny historic-neighborhood lot, while saving an aged oak sitting front and center to boot! The front entry reveals an open entertainment space—Kitchen, DR, LR— spanning the front portion of this 3 BR, 2.5 BA cottage-style home designed by local architect Ian Ratliff. With only 1200 SF finished interior, the garage and porches nearly double the footprint.
F. 415 Magnolia Street (at Andrews)
Restored to its glory by Fielding Cooley in 2004, 415 is a masterwork of Craftsman-era design: wrap around porch, exposed beam ceiling, heart-pine flooring and wainscoted fireplace. Some moments of intrigue include: the former closet that is now a tiny, but full-fixture bathroom; the hearth for what had once been a DR fireplace & Kitchen cook-stove. Pandemic lock-down alterations include new kitchen counters and a new bathroom.