WHEN: March 22, 2018 between 10.00AM and 4:00PM. This event is limited to 300 participants.
The charm of New Smyrna Beach is a patina that flows through its core composed of shades of green and gray from the lush foliage, accents from the sea breezes, and architectural eye appeal from buildings constructed over time – a LONG time!
The homes planned for the tour follow. We know you will appreciate them as much as their owners and we do!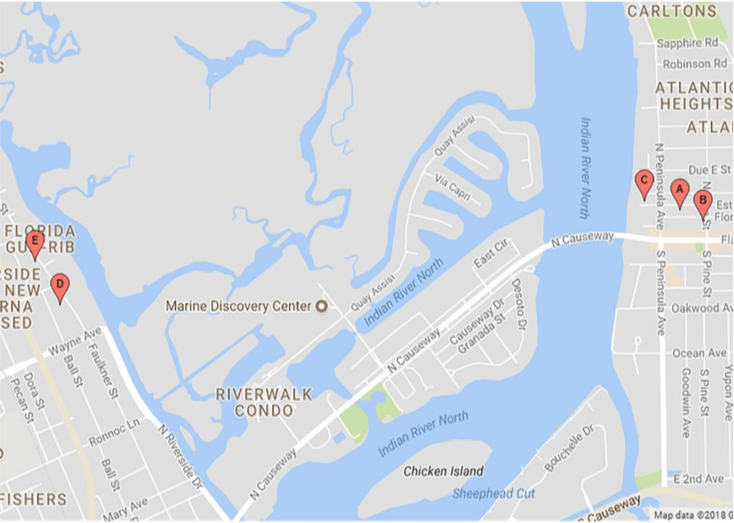 A. The Hughes Home – 210 Florida Avenue
Newly built around a 250+ year old oak named "Goliath" (presumed to be the beachside's largest), the details of this ground level tree house are as exquisite as its site. The polished cement & aggregate flooring cleverly update traditional beachside terrazzo. The kitchen adjoins the dining and living room areas for generous entertainment space where ceilings and windows soar with views of the ancient oak, and a floating staircase leads up to a loft library/sitting room.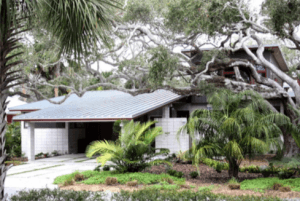 B. The Canfield Home – 108 Pine Street
Tucked behind tropical greens, the centennial changes to this 1910 structure aesthetically respect its heritage. Visual treats begin with the warm wood-clad acupuncture clinic entry & cozy treatment rooms (2014). Brightly painted original bath and bedroom open to the kitchen/living area (2010) where Bud Gilbert countertops with maple & ipe cabinets complement a street find antique cabinet. Art galore abundantly augments this presentation on living fully in 1000 square feet.
C. The Herman Home – 108 Esther Street
Shaded by large oaks, graced with hibiscus, palms, bromeliads, orchids & ferns, 108 is a hidden gem. Built in 1920 (possibly housing citrus grove workers), you will see how large an 850 square foot living space can be! Extensive homeowner experience met with "not so big house" Sarah Susanka's influence. The resulting space reflects her major tenets of fluid movement & multi-use spaces while bringing the outside in through windows and skylights and the inside out via a deck.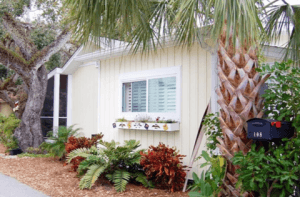 D. The Spangler-Mackay Home – 714 Faulkner Street
Flanked by old growth oaks, a quiet, walled frontage conceals this home's expansive 2000 square foot interior. Built in 1946, 714 may be the first concrete block home in New Smyrna; all the more unusual for its block interior walls. With more than 50% of the flooring original oak, countertops by Bud Gilbert, a kitchen that suits the home's Florida farmhouse vintage, the master bath's nautilus- shaped shower, this house illustrates a mix of its origins and its owners' design experience.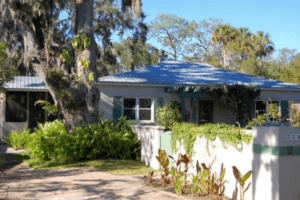 E. The Murphy-Thomas Home – 810 Faulkner Street
Built in 1953 as a winter cottage escape for Northeasterners, the current footprint took shape over 40 years. Difficult economic times saw 810 as a bank-owned rental property, but local artists Carol and Tim purchased it in 2011, lovingly bringing it back to life. Surrounded by lush tropical gardens, the unusual art both in the home and throughout the gardens along with their studios, create an especially unique tour stop.